Top 4 Free DVD Burners for Windows 10
2019-03-19 03:09:10 Posted by Gabriel
5220
Summary: Are you looking for a free DVD burner for Windows 10? Here are some of the best free DVD burners for Windows 10.
There is something everlasting about storing videos on DVDs. Even though now we live in a time when cloud-based solutions and flash drives have taken over, there is a certain charm in using a free CD DVD burner for Windows 8 or 10 to burn your favorite videos on DVDs.
Are you looking for a free DVD burner for Windows 10? While there are a lot of options in the market, not all free DVD burners are worth downloading. After all, the last thing you would want is to get stuck with a slow burner.
Don't worry, as we are here to make the process easier for you. Here are some of the best free DVD burners for Windows 10.
Now, we understand that DVDFab is not technically completely free, but it does offer a 30-day free trial period which is enough for one-time DVD burners. Also, those of you who burn MP4 to DVDs often would want to invest in quality software. In these 30 days, you are bound to become a fan of the DVDFab DVD Creator. We certainly did!
This DVD burner is full of value-added features. Even the eventual price you have to bear is highly cost-effective and affordable, considering the package. The software aims to deliver a burner which can be used to burn all types of videos. This even holds true for those which are recorded on a camcorder. Only a few burners deliver such a feature.
The MP4 of your choice can be burned onto DVD ISO folders or discs. There are various formats that are compatible with the DVD burner. For instance, you can burn any given MP4 to formats including DVD-9, DVD+R, and DVD+R DL.
Additionally, the DVD maker software offers convenience and great autonomy at the same time. The former advantage is delivered by the immensely fast conversion and burning speed. You will be done with the burning process in no time. Also, rather than processing one video at a time, you can burn multiple videos at the same time. You can also watch the videos as you burn them to ensure you are burning the correct ones.
The autonomy is delivered via the various customizing options. For instance, you are allowed to create your unique DVD menu and decide how this menu looks like. This is achieved by the free templates built into the burner.
DVDStyler
DVDStyler is a completely free DVD burner for Windows 10. It is functional on various platforms, hence delivering its services to a wide range of users. The operating systems it is compatible with include Mac, Linux, and Windows.
Generally, free DVD burners seldom support different languages, but this is not the case with DVDStyler. This software supports an array of languages including English, Japanese and Chinese.
When it comes to burning MP4s to DVDs, this software does not disappoint. While the burning speed is not as fast as a premium option, it surely gets the job done. Users can burn different types of MP4 videos into various DVD formats.
Also, MP4 is not the only format it supports as input. You can also burn formats like AVI, MPEG, and WMV. The fact that you can create your own DVD menu is a feature many like to have. Therefore, this DVD burner makes a point of delivering it.
DVD Flick
DVD Flick is widely regarded as a great free CD DVD burner for Windows 8 and 10. The burning process embedded in this burner is very simple. In order to further facilitate its users, the developers of DVD Flick have also delivered a comprehensive and detailed tutorial on how to burn MP4 to a given DVD.
When it comes to the interface of the software, this burner cannot confuse anyone. This is because it is equipped with a clear and easy-to-use interface. Each element that you need is clearly labeled. Hence, even if you don't watch the tutorial, you can easily figure out how to use it.
Whether it is creating ISO files or burning DVDs for DVD players, you can do it using DVD Flick. The ability to add subtitles and rename the title of each audio track is a good customizable option. However, if you want advanced customization, you won't get that with DVD Flick.
Freemake Video Converter
This video converter and DVD burner has been developed specifically for Windows users and only supports this operating system. Therefore, it almost never lags or crashes on Windows.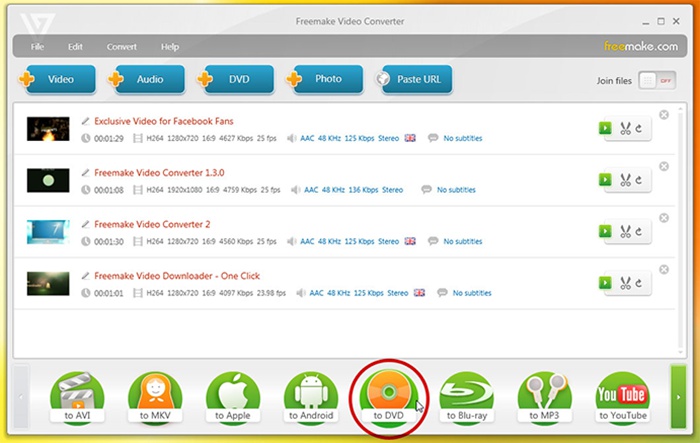 This free video converter features multi-language support. Hence, you can set whatever language you wish the DVD burner to be in from the choices available to you. While most free DVD burners merely burn your MP4 videos into DVD, the Freemake Video Converter offers users a lot more than that. Other delivered features include video editing, converting and the ability to download videos from online platforms. Other value-added features are available at a cost.
As expected, the premium version is the better option of the two, but this doesn't mean that the free version doesn't get the job done. If your requirements are basic and you will be satisfied with simple burning, converting and editing features, you won't need the premium version. However, remember the conversion and burning speed will be slow.
Conclusion
While the DVDFab DVD Creator is clearly the best option of the lot, some of you might not like its limited free version. However, remember that the fast speed and delivery of various features make up for the affordable price.
If you still wish to stick to a completely free option, the best among the other three is DVDStyler. Burning videos via it are easy and comparatively faster than the other free options.
Select whichever DVD burner you think will do the job for you, and begin burning videos and playing them using a DVD player.
You May Need Other Tools